27.10.2021 – Kommunalvalg 2021: Fremtidens natteliv
Kommunalvalg 2021: Fremtidens natteliv
What should the future of the nightlife look like? How do we go from drinking driven, to cultural driven nightlife?
How do we  
Hvordan skal fremtidens natteliv se ud? Hvordan kommer vi fra drukbåret til kulturbåret natteliv? How together combat discrimination and unwanted behaviour in the nightlife?
Do politicians do enough to support the cultural, safe and non-commercial nightlife that many young people dream of?
Join the debate on 27 October, when Copenhagen's Free Promoters invite local election candidates and young cultural creators to a debate leading up to the 2021 local elections.
The debate is based on the new Nighlife Strategy 2021 with a focus on how we together ensure a healthier and more culturally borne nightlife in Copenhagen.
NOTE: Registration is not required, but there is a limited number of places. Arrived from kl. 16:45 if you want to secure a place.
 
Program:
16:45 Doors open
17:15 Screening of selected 'KFP Conversations'
18:00 Debate about the nightlife of the future with municipal election candidates
Participating municipal election candidates:
– Jonas Bjørn Jensen, Socialdemokratiet
– Ane Storm, Venstre
– Frederik Kronborg, Enhedslisten
– Karina Soon Bergmann, Det Konservative Folkeparti
– Christopher Røhl Andersen & Kashif Ahmad, Radikale Venstre
– Astrid Aller og Klaus Mygind, Socialistisk Folkeparti
– Franciska Rosenkilde, Alternativet
The venue is wheel-chair accessible Ungdommens Demokratihus.
OBS: The debate will be recorded and shared via KFP's channels afterwards.
Thanks to Tuborgfondet for supporting the event and to Ungdommens Demokratihus for hosting the debate.
17.07.2021 – Vækstlagskultur i byudviklingen
Vækstlagskultur i byudviklingen
In Copenhagen, the framework for the musical growth layer is under pressure. Industrial areas are being turned into apartment complexes, DIY venues are being closed and municipal grants opportunities are limited. At the same time, cities such as Roskilde and Aarhus are leading the way with music city strategies that create space and potential for the growth segments many contributors. What are the premises for incorporating the musical growth segment in urban development?
Panel
Albert Helmig, Aarhus Volume
Mads Østergaard Nielsen, Kedelcentralen, INSP Sound
Amalie Lind, Københavns Frie Promotere
Presented by Københavns Frie Promotere (KFP) in collaboration with Promus & SPOT+
Friday 17. September 2021
11am-12am
External link
13.08.2020 – Klub- og koncertkulturen under pres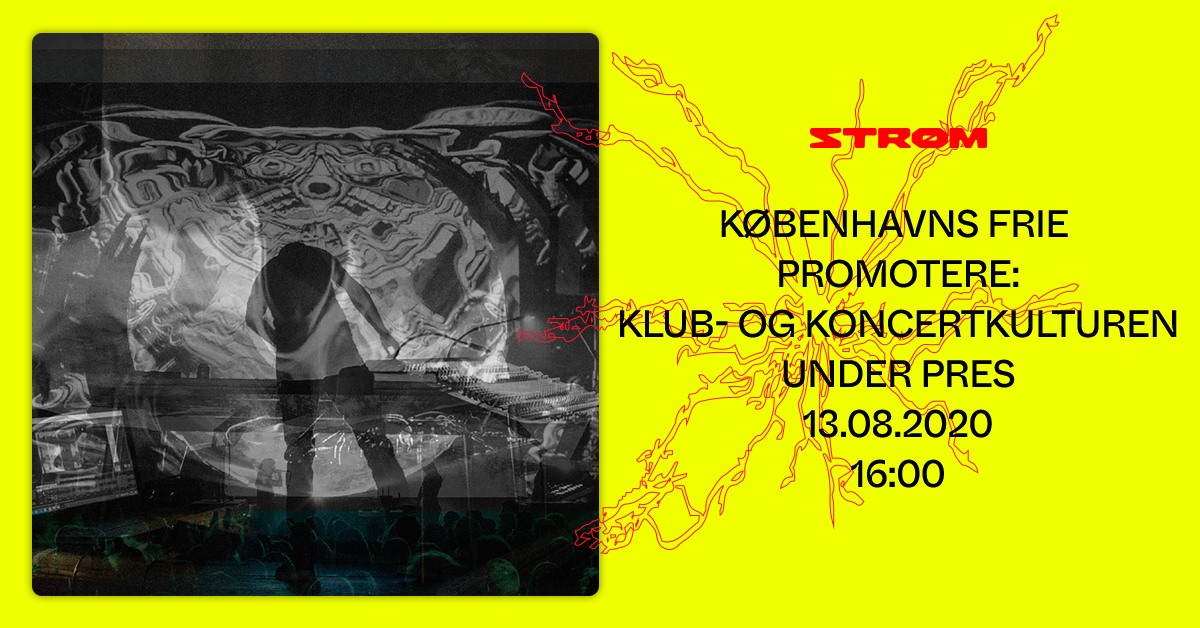 Klub- og koncertkulturen under pres
The association Københavns Frie Promotere presents in collaboration with Strøm a panel discussion about the challenges and potentials in Denmark's club and concert culture.
Thursday 13. August 2020
4pm-5.30pm
Facebook event